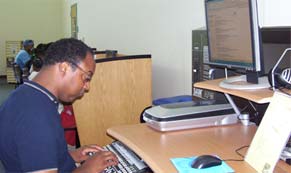 The Forsyth County Public Library offers computers equipped with assistive technology. The services are available at Carver School Road Library during regular library hours.
Orientation for this new technology is required. Call the Carver School Road Library at 703-2910 to schedule an orientation for Assistive Technology.
Each of our AT workstations is set up to accommodate our customers who are physically challenged. They feature fully adjustable desks and chairs, room to maneuver wheelchairs, and separate adjustable keyboard trays.
All hardware and software have been purchased with Federal Library Services and Technology Act funds through a grant administered by the State Library of North Carolina.
Click here for more information about Assistive Technology available at Forsyth County Public Libraries.
Contact Us
Central Library
660 West Fifth Street
Winston-Salem, NC 27101
Phone: 336 703 BOOK (2665)
Fax: 336 727 2549
Email:
Contact Us
Hours of Operation
Limited Browsing and Borrowing
Monday-Thursday 9 a.m. to 8 p.m.
Friday 9 a.m. to 6 p.m
Saturday 10 a.m. to 5 p.m.
To-Go Service Hours
Monday-Wednesday 10 a.m. to 7 p.m
Thursday-Friday 10 a.m. to 6 p.m
Saturday 10 a.m. to 5 p.m.
Holiday Closings
Holiday Closings
Monday, January 2 - New Year's Day
Monday, January 16 - Martin Luther King, Jr. Birthday
Friday, April 7 - Good Friday
Monday, May 29 - Memorial Day
Tuesday, July 4 - Independence Day
Monday, September 4 - Labor Day
Friday, November 10 - Veteran's Day
Thursday, November 23 - Thanksgiving
Friday, November 24 - Thanksgiving
Friday, December 22 - Christmas holiday begins
Monday, December 25 - Christmas
Tuesday, December 26 - Christmas